How To Use World Clock - Samsung Galaxy Tab S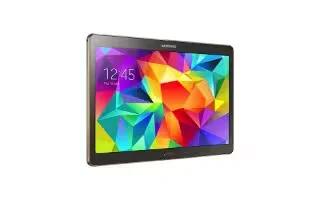 Learn how to use world clock on your Samsung Galaxy Tab S. View the date and time in any time zone.
On the Apps screen, tap Clock > World clock.
Creating clocks
Tap + icon and enter a city name or select a city from the cities list.
To apply summer time, tap and hold a clock, and then tap World Clock icon.
Deleting clocks
Tap Menu icon > Delete, select clocks, and then tap Done.

To change the order of the cities
Touch Menu icon > Change order.
Touch the grid icon on an entry and drag the entry to a new position in the list.
Touch Done to change the order.
To delete one or more cities
Touch Menu icon > Select.
Touch the box next to each city you want to delete so that a check mark icon displays
Touch Delete icon.
Touch and hold an entry to delete it or to set the DST settings, which enable or disable Daylight Savings Time adjustments.
Note
This guide will work on all Samsung Galaxy Tab S's; including Samsung Galaxy Tab S 8.4 and Samsung Galaxy Tab S 10.5.