How To Use WiFi Settings - Samsung Galaxy Tab 3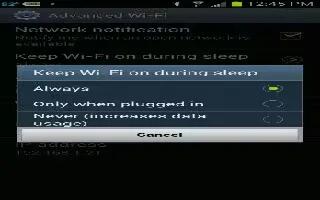 Learn how to use WiFi settings on your Samsung Galaxy Tab 3. Your device supports Wi-Fi a/b/g/n. Use Wi-Fi settings to manage your devices Wi-Fi connections. For more information about using your devices Wi-Fi features, see WiFi.
Turning Wi-Fi On or Off
When you turn Wi-Fi service on, your device automatically searches for available, in-range Wireless Access Points (WAPs).
From any screen, touch the top of the screen and swipe downward, to display the Quick Settings, and then touch WiFi in the Quick Settings menu.
or
Touch Settings.
On the Wi-Fi tab, touch the OFF / ON icon to turn Wi-Fi on or off icon.
Scan for Wi-Fi Networks
To make sure you have an accurate list of Wi-Fi networks. Touch Settings icon > Wi-Fi, and then touch Scan.
Add Wi-Fi Network
To open a dialog where you can add a Wi-Fi network by entering its Network SSID (the name it broadcasts), security type, and other properties:
Touch Settings icon > Wi-Fi, and then touch Add Wi-Finetwork.
Use the keyboard to enter Network SSID.
Touch the Security field and then touch a security type.
Note:Depending on the Security protocol used by the WAP, additional network information may be required, such as a Password.
If necessary, touch Password and enter the password or hex key.
Touch Connect.
Note
This guide will work on all Samsung Galaxy Tabs; including Samsung Galaxy Tab 3 7.0, Samsung Galaxy Tab 3 8.0 and Samsung Galaxy Tab 3 10.1.