How To Use Walking Mate - Samsung Galaxy Alpha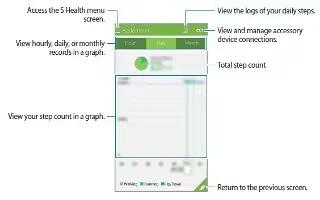 Learn how to use walking mate on your Samsung Galaxy Alpha. Form S Health apps the pedometer counts the number of steps you have taken and measures the distance traveled. It also measure the calories you have burnt using a sensor.
Tap App icon > Pedometer.
Tap Start and start walking. The device measures your step count, distance traveled, and burnt calories, and displays them in real-time.
To stop measuring, tap Pause > OK. The measurements are saved.
Tap Menu icon and use the following functions:

Daily step goal: Change the target number of steps.
Reset daily data: Reset the daily step count.
Device data to view: Select a device to view information recorded by the pedometer.
Share via: Send the current page to others.
Notice: View the notice information.
Settings: Configure settings for S Health.
User manual: View more information about using this feature.
Note: You may experience a brief delay while the Pedometer monitors your steps and displays your step count.
if you use the Pedometer while traveling by car or train, vibration may affect your step count.
Viewing your step count in a graph
View your step count for a period in a graph.
On the Pedometer main screen, Tap Graph icon. Resetting the daily step records
The device accumulates each day's step records.
To reset the daily step count, tap Menu icon > Reset daily data > OK.