How To Use Voice Memos - iPhone 5S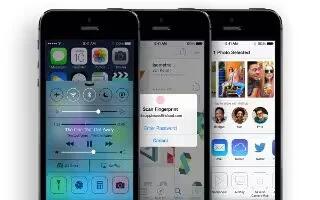 Learn how to use voice memos on your iPhone 5s.
Voice Memos at a glance
Voice Memos lets you use iPhone as a portable recording device. Use it with the built-in microphone, an iPhone or Bluetooth headset mic, or a supported external microphone.

Record
Make a recording. Tap record icon or press the center button on your headset. Tap record icon again to pause or resume. To save the recording, tap Done.
Recordings using the built-in microphone are mono, but you can record stereo using an external stereo microphone that works with the iPhone headset jack, or with the Lightning connector (iPhone 5 or later) or 30-pin dock connector (iPhone 4S or earlier). Look for accessories marked with the Apple Made for iPhone or Works with iPhone logo.
Adjust the recording level. Move the microphone closer to what youre recording. For better recording quality, the loudest level should be between 3 dB and 0 dB.
Mute the start and stop tones. Use the iPhone volume buttons to turn the volume all the way down.
Multitask. To use another app while youre recording, press the Home button and open the other app. To return to Voice Memos, tap the red bar at the top of the screen.
Listen to a recording. Tap the recording in the list, then tap play icon. Tap pause icon to pause.
Listen
Trim a recording. Tap the recording, tap Edit, then drag the red start and end markers. Tap to play icon preview. After making adjustments, tap Trim to save. The portions you trim cant be recovered. Move recordings to your computer
You can sync voice memos with the iTunes library on your computer, then listen to them on your computer or sync them with another iPhone or iPod touch.
When you delete a synced voice memo from iTunes, it stays on the device where it was recorded, but is deleted from any other iPhone or iPod touch you synced. If you delete a synced voice memo on iPhone, its copied back to iPhone the next time you sync with iTunes, but you cant sync that copy back to iTunes a second time.
Sync voice memos with iTunes. Connect iPhone to your computer, then in iTunes select iPhone.
Select Music at the top of the screen (between Apps and Movies), select Sync Music, select Include voice memos, and click Apply.
Voice memos synced from iPhone to your computer appear in the Music list and in the Voice Memos playlist in iTunes. Voice memos synced from your computer appear in the Voice Memos app on iPhone, but not in the Music app.