How To Use Video Player - LG G Pro 2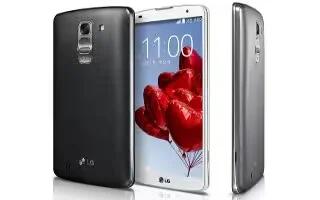 Learn how to use video player on your LG G Pro 2. Your phone has a built-in video player that lets you play all of your favorite videos.
To access the video player, touch Apps icon > Apps tab > Videos.
Playing a video
Touch Apps icon > Apps tab > Videos. Select the video you want to play.

Zoom icon: Touch the desired direction for audio zoom.
QSlide icon: Touch to enter into Qslide mode.
SmartShare icon: Touch to share your video via the SmartShare function.
Lock icon: Touch to lock a video screen.
Lists icon: Touch to view the video list.
Pause icon: Touch to pause video playback.
Play icon: Touch to resume video playback.
Forward icon: Touch to go 10 seconds forward.
Back icon: Touch to go 10 seconds backward.
Volume icon: Touch to manage the video volume.
Video Screen icon: Touch to change the ratio of the video screen.
To change the volume while watching a video, press the up and down volume keys on the left-hand side of the phone.
Touch and hold a video in the list. The Share, Trim, Delete and Details options will be displayed.