How To Use USB Tethering - Samsung Galaxy Note 3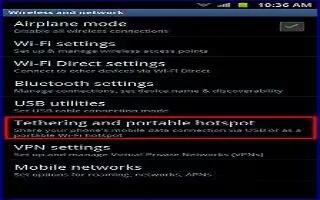 Learn how to use USB tethering on your Samsung Galaxy Note 3. This option allows you to share your phoness mobile data connection via USB or as a portable Wi-Fi hotspot.
Note: To enable USB-tethering on your phone, dial 611 or go to or setup the service.
From the Home screen, tap Apps > Settings > Connections > Tethering and portable hotspot.
Connect your phone to your PC using a USB cable.
Tap USB-tethering to add a checkmark and activate the feature. The USB-tethering icon is displayed at the top of your screen.
Follow the on-screen instructions to use USB tethering.