How To Use S Health On Samsung Galaxy Note 4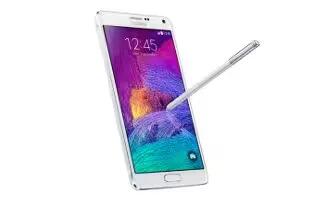 Learn how to use S Health on your Samsung Galaxy Note 4. S Health helps you manage your wellness and fitness. Set fitness goals, check your progress, and keep track of your overall wellness and fitness.
Starting S Health
When running this app for the first time or restart it after performing a data reset, follow the on-screen instructions to complete the setup.
Tap S Health on the all Apps screen.
Follow the on-screen instructions to complete the setup.
Note: Based on your physical statistics, the device calculates your standard basal metabolic rate (BMR) and recommends a daily calorie intake. The recommendation may not be accurate for all ages, body compositions, or nutritional needs.
S Health main screen
You can view the key information from S Health menus and use shortcuts to directly access S Health menus.
Tap S Health on the all Apps screen. Tap Apps icon > Main screen.
Note: To access more information about S Health functions, open the S Health main screen and tap Menu icon > Help.
Additional information
The purpose for such data collection is limited to providing the service that you have requested, including providing additional information to enhance your wellness, back up/sync data, data analysis and statistics or to develop and provide better services. (But if you sign in to your Samsung account from S Health, your data may be saved on the server for data backup purposes.) Personal information may be stored until the completion of such purposes. You can delete personal data stored by S Health by using the Reset data option in the Settings menu. To delete any data you have shared with social networks or transferred to storage devices, you must delete them separately.
You assume full responsibility for the inappropriate use of data shared on social networks or transmitted to others. Use caution when sharing your personal data with others.
If the device is connected to measuring devices, verify the communication protocol to confirm proper operation. If you use a wireless connection, such as Bluetooth or ANT+, the device may be affected by electronic interference from other devices. Avoid using the device near other devices that transmit radio waves.
The content used in the S Health app may vary depending on the software version of the app. The services provided with the app are subject to change or the cancellation of support without prior notice.
Available S Health functions and services may vary depending on the local laws and regulations in your region.
Some functions of S Health may not be provided depending on your region.
S Health functions are intended for fitness and informational purposes only and is not intended for use in the diagnosis of disease or other conditions, or in the cure, mitigation, treatment, or prevention of disease.