How To Use QuickMemo - LG G Pro 2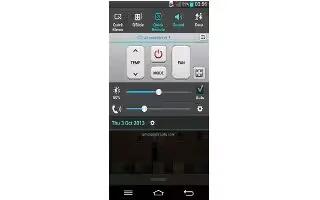 Learn how to use QuickMemo on your LG G Pro 2. Use the QuickMemo to practically and efficiently create memos during a call, with a saved picture or on the current phone screen.
Enter the QuickMemo screen by pressing QuickButton Key for one second on the screen you want to capture. OR
Touch and slide the status bar downward and touch QuickMemo icon. Select the desired menu option from Pen type, Colour, Eraser and create a memo. Touch Edit icon in the Edit menu to save the memo with the current screen in the Gallery or Notebook. Note: Please use a fingertip while using the QuickMemo. Do not use your fingernail.
Using the QuickMemo options
You can easily use the QuickMenu options when using the QuickMemo.
Memo icon: Touch to keep the current memo on the screen and use the phone simultaneously.
Background icon: Selects whether to use the background screen or not.
Undo/Redo icon: Undo or Redo.
Pen icon: Selects the pen type and the colour.
Delete icon: Erases the memo that you created.
Share icon: Touch to send your memo to others or share it via social network services.
Save icon: Saves the memo with the current screen in the Gallery or Notebook.
Viewing the saved QuickMemo
Touch Notebook/Gallery and select the QuickMemo album.