How To Use Polaris Office On Samsung Galaxy Tab 2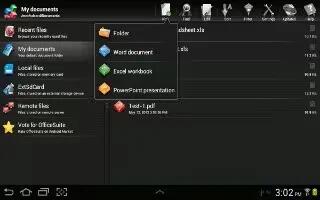 Polaris Office Mobile for Android is a Microsoft Office compatible office suite. This application on Samsung Galaxy Tab 2 provides a central place for managing your documents online or offline. The application can also open Adobe PDF (Portable Document Format) files.
Note: A shortcut to Polaris Office displays on a Home screen by default.
From a Home screen, touch Polaris Office.
or
From a Home screen, touch Apps > Polaris Office.
Enter your Email information, if desired, and touch Register to complete the process.
or
Touch Skip to ignore this registration.
The main Polaris Office screen displays. Recent documents displays a list of recently opened documents.
Note
This article will work on both Samsung Galaxy Tabs; including Samsung Galaxy Tab 2 7.0 and Samsung Galaxy Tab 2 10.1.