How To Use Photo Editor On Samsung Galaxy Tab 2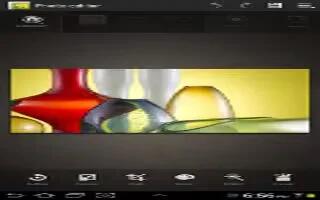 The Photo editor app provides basic editing functions for photos that you take on your Samsung Galaxy Tab 2. Along with basic image tuning like brightness, contrast, and color, it also provides a wide variety of effects used for editing the photo.
From a Home screen, touch Apps > Photo editor.
Touch Select picture to edit a photo in your Gallery.
or
Touch Take picture to take a photo with the camera.
Touch the photo to load it into the Photo editor.
Use the following Photo editor controls to edit your photo:

Selection: Touch the selection icon and then touch Magnetic, Lasso, Brush, Round, or Square to set how to mark an area for cropping, rotating, and so on. Touch single area icon to select a single area, merge area icon to add to a selected area, or remove area icon to remove part of a selected area.

Selection Size: Set the size of the Grab selection area. Drag the slider from small to large.

Inverse: Select the entire picture except for the selected area.
Undo: Remove the last change.
Redo: Restore a removed change.
Rotate: Rotate a photo to the left or to the right or create a mirror image of the photo.
Resize: Touch and then drag the corners of the photo to resize it.
Crop: Touch to crop (cut-out) an area of a photo.
Color: Set the Auto adjustment, Exposure, Saturation, Contrast, Brightness, and Hue of a photo. You can also make it Grey-scale or add a Temperature effect.
Effects: Add various effects to your photo, such as Blur, Motion, Distortion, Filter, or Frames.
Tools: Copy and Paste to another image or to the original image. You can use the Spot healing option.

When all updates to the photo have been made, touch Save. Use the keyboard to name the edited photo and touch OK to save it.
While editing a photo, touch Menu to display the following options:

Select picture: Open a new photo for editing.
Take picture: Open the Camera and take a new photo.
Share via: Send photos to another device or another person. Options are: Bluetooth, ChatON, Dropbox, Email, Gmail, Google+, Group Cast, Picasa, or Wi-Fi Direct.
Set as: Use this photo as a Contact photo, a Home and lock screens, Home screen wallpaper, or Lock screen wallpaper image.
Note
This article will work on both Samsung Galaxy Tabs; including Samsung Galaxy Tab 2 7.0 and Samsung Galaxy Tab 2 10.1.