How To Use Nearby Devices On Samsung Galaxy Tab 2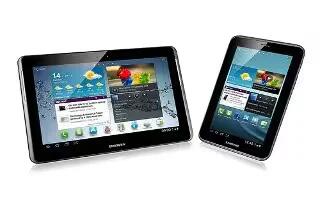 This option allows you to share your media files with nearby DLNA (Digital Living Network Alliance) enabled devices with Samsung Galaxy Tab 2.
Note: If file sharing is enabled, other devices can access your data. Use the Wi-Fi network and this option with care.
To configure this option:
From a Home screen, touch Apps > Settings > More settings > Nearby devices.
Touch File sharing to turn File sharing on. A check mark tick appears in the check box when File sharing is On.
In the Advanced section, set the following options:

Shared contents: Select the content to share. Choices are: Videos, Photos, and Music.
Device name: Enter the name for your device. The default is the model number.
Access control: This setting can be Allow all or Only allowed devices.
Allowed devices list: Indicate the devices accessible to your device.
Not-allowed devices list: Indicate the devices not accessible to your device.
Download to: Set whether to download data to USB storage or SD card.
Upload from other devices: If a nearby device attempts to upload data, this setting indicates the response. Options are: Always accept, Always ask, and Always reject.
Note
This article will work on both Samsung Galaxy Tabs; including Samsung Galaxy Tab 2 7.0 and Samsung Galaxy Tab 2 10.1.