How To Use Music App - HTC One Mini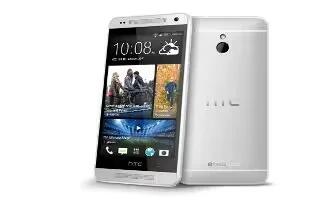 Learn how to use music app on your HTC One Mini. Enjoy your favourite songs on HTC One Mini using the Music app.
Note: When you open the Music app for the first time, you'll be asked if you would like to automatically download related content, such as album covers and artist photos, to HTC One Mini.
Open the Music app.

Swipe to the different tabs to browse by category.

Tap a song to play.

Tap the onscreen icons to control music playback, repeat songs, and more.
Progress bar: Press and drag your finger across the progress bar to jump to any part of the song.

Turn shuffle on or off. (Shuffle is off when button is gray.)

Cycle through the repeat modes: repeat all songs, repeat current song, and dont repeat.

Play: Play your music on a DLNA compliant TV or audio system, HTC Media Link HD, or stereo Bluetooth device.

View: Minimize the Now playing screen to continue browsing your music collection.
Note: When you're listening to music and the screen display turns off, press POWER to turn the screen back on and control the music playback directly on the Lock screen.
Song Lyrics
Learn how to view song lyrics on your HTC One Mini. Love a song so much that you want to sing along? HTC One Mini gives your music an extra kick with song lyrics and cool music visualizations.
Note: To save on data usage, connect to a Wi-Fi network when downloading lyrics. In Music settings, select Wi-Fi only.
Open the Music app.

Browse to the song you want to play and tap it.

Swipe to the Visualizer tab to view the lyrics. Song lyrics appear onscreen if content has been successfully downloaded.
Note: Want a different visual for your music? Tap Menu > Scene and select a scene. If you want the scene to change for every song, select Random.
Tap the screen to display the lyrics in full screen.

To jump to another part of the song, tap the screen to make the progress bar appear. Press and drag your finger across the progress bar, or press and hold Forward icon or Backward icon.
Note: Not all languages are supported.