How To Use Menu Navigation - Samsung Galaxy Note 3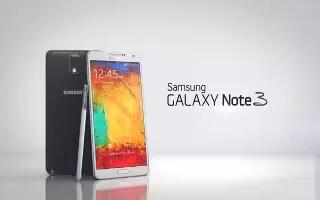 Learn how to use menu Navigation on your Samsung Galaxy Note 3. You can tailor the phones range of functions to fit your needs using both menus and widgets. Menus, sub-menus, and features can be accessed by scrolling through the available on-screen menus. Your phone originally has three home screens but you can expand up to seven home screens.
Touch and hold on a field to display a pop-up menu of options.
Tap
Lightly touch items to select or launch them. For example:
Tap the on screen keyboard to enter characters or text.
Tap a menu item to select it.
Tap an applications icon to launch the application.
Touch and Hold
Activate on-screen items by a touch and hold gesture. For example:
Touch and hold a widget on the home screen to move it.
Swipe and Palm Swipe
To swipe, lightly drag your finger vertically or horizontally across the screen. Use swipe when:
Unlocking the screen
Scrolling through the Home screen or a menu
To palm swipe, swipe the side of your hand horizontally across the screen. Use palm swipe when:
Panning
To pan, Touch and hold a selected icon, then move the device to the left or right to reposition it to another page. You must first activate Motion on your device. Use panning to:
Move icons on your Home screens or Application Menus to another page.
Tilt
To activate the tilt feature, press and hold two points on the screen then tilt the device back and forth to reduce or enlarge the screen. Use tilt to:
Reduce or enlarge the screen in the Gallery or Browser.
Turn your phone over so that the screen faces downward. For example:
Mute incoming calls and playing sounds by turning your phone over.