How To Use Google Local App - Samsung Galaxy Tab 3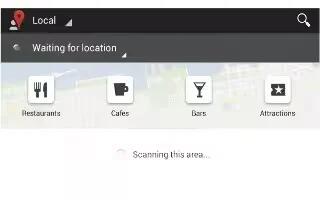 Learn how to use Google Local App on your Samsung Galaxy Tab 3. Google Local is an application that uses Google Maps and your location to help you find destinations, such as restaurants, bars, hotels, attractions, ATMs, and gas stations. You can also add your own locations.
Note: You must enable location services to use Local. Some features require Standalone or Google location services.
From a Home screen, touch Apps > Local icon.
Touch Choose your location drop-down icon and touch My current location or Enter an address. To enter an address, use the on-screen keyboard and then touch OK.
Touch one of the business categories to search for a particular business.
Touch a business in the list to see more details about it.
Touch your location at the bottom of the Local pop-up to write or view reviews, check in here, and so on.
Note
This guide will work on all Samsung Galaxy Tabs; including Samsung Galaxy Tab 3 7.0, Samsung Galaxy Tab 3 8.0 and Samsung Galaxy Tab 3 10.1.