How To Use Home Screen - Samsung Gear Fit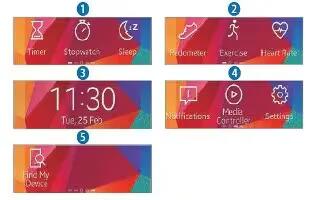 Learn how to use Home Screen on your Samsung Gear Fit. When you connect your Gear Fit to the mobile device you can view the devices Home screen. The Home screen displays the clock, shortcuts to applications, and other information. The Home screen has multiple panels. Scroll left or right to display additional panels.
Note: Connect the Gear Fit to the mobile device after purchasing to accurately set the time. The time may not be accurate if the Gear Fit is turned off or the battery is depleted. Reconnect to the mobile device to accurately set the time.
Note: Available applications and the arrangement of applications may vary depending on the software version.
Timer: Use the Gear Fit as a countdown timer.
Stopwatch: Measure and record the amount of elapsed time.
Sleep: Monitor your sleep patterns and record how much sleep you get.
Pedometer: Set a goal and measure your step count.
Exercise: Set exercise goals and measure the exercise you do and calories you burn.
Heart Rate: Measure and record your heart rate.
Clock: View the current date and time.
Notifications: Stay up-to-date with a variety of events, such as new messages, emails, or missed calls, received on the connected mobile device. You can receive a maximum of 100 notifications on the Gear Fit. After the maximum is reached, notifications will be removed in order from the oldest.
Media Controller: Launch the media player on the connected mobile device and control playback with the Gear Fit.
Settings: Configure the Gear Fit by setting items, such as the clock background, display settings, and Bluetooth feature.
Find My Device: Find the connected device.
Using the Clock screen
While using the Gear Fit, press the Power button to return to the Clock screen. Using Applications
The Gear Fit can run a range of applications.
From the Home screen or the Apps screen, tap a shortcut or an application icon to open it.
Scroll left or right to view all the applications installed on the Gear Fit.
Returning to the Previous Page
Tap Back Key while using applications to return to the previous page.