How To Use Home Screen - Samsung Galaxy Tab 3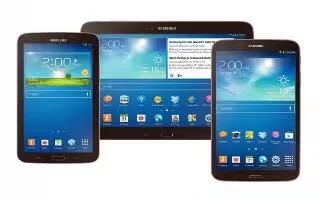 Learn how to use Home Screen on your Samsung Galaxy Tab 3. The Home screen is the starting point for using your device. Unless stated otherwise, instructions in this guide start with the device unlocked, at the Home screen.
System Bar: The area along the bottom of the Home screen where you can find navigation buttons and icons that show notifications, battery power, and connection details.
Status Icons: Indicate the status of your tablet. Touch the Time / Status Icons area to display the Status Details panel.
Time: The current time.
Apps: Display the Apps screen.
Primary Shortcuts: Shortcuts to common features. These shortcuts are found on all Home screens by default.
Current screen: Indicates which Home screen is being displayed.
App Shortcuts: Shortcuts to common applications.
Google Search: Search the web by typing or speaking.
Home screen: The starting point for using your device. Place shortcuts, widgets, and other items to customize your device to your needs.
Widgets: Applications that run on the Home screen. Some widgets are found on the Home screen by default.
Extended Home Screen
The Home screen consists of the Home panel plus additional panels that extend beyond the display width to provide more space for adding shortcuts and widgets.
Slide your finger horizontally across the screen to scroll to the left or right side panels. As you scroll, the indicator at the top of the display shows your current position.
Note: The center panel displays when you touch Home.
Note:
This guide will work on all Samsung Galaxy Tabs; including Samsung Galaxy Tab 3 7.0, Samsung Galaxy Tab 3 8.0 and Samsung Galaxy Tab 3 10.1.