How To Use Guided Access On iPhone 5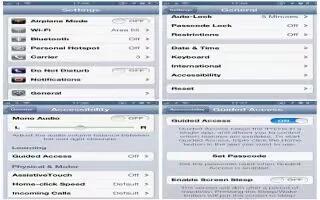 Guided Access helps someone using iPhone to stay focused on a particular task. Guided Access limits iPhone to a single app, and lets you control which app features are available. Continue reading on how to use it.
Use Guided Access to:
Temporarily restrict iPhone to a particular app
Disable areas of the screen that arent relevant to a task, or areas where an accidental gesture might cause a distraction
Disable the iPhone hardware buttons
Use Guided Access:
Go to Settings > General > Accessibility > Guided Access, where you can:
Turn Guided Access on or off
Set a passcode that controls the use of Guided Access and prevents someone from leaving an active session
Set whether iPhone can go to sleep during a session
Start a Guided Access session:
Open the app you want to run, then triple-click the Home button. Adjust settings for the session, and then click Start.
Disable app controls and areas of the app screen: Circle any part of the screen you want to disable. You can use the handles to adjust the area.
Ignore all screen touches: Turn off Touch.
Keep iPhone from switching from portrait to landscape or from responding to any other motions: Turn off Motion.
End a Guided Access session:
Triple-click the Home button and enter the Guided Access passcode.
Note
This article will work on all iPhones using iOS 6; including iPhone 3GS, iPhone 4, iPhone 4S, and iPhone 5.