How To Use Gmail - Samsung Galaxy S5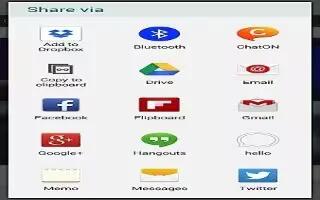 Learn how to use Gmail on your Samsung Galaxy S5. Gmail is a web-based email service. G-mail is configured when you first set up your phone.
Depending on your synchronization settings, G-mail can automatically synchronize with your G-mail account on the web. Signing into Your G-mail
Note: You must sign in to your G-mail account in order to access Gmail.
Sign on to your Google account if you are not already signed on. For more information, refer to How To Create Google Account - Samsung Galaxy S5
From the Home screen, tap Apps icon > Gmail icon.
Follow the on-screen instructions. The Inbox loads conversations and email.
Creating a Gmail Message
From the G-mail Inbox, tap Compose icon at the bottom of the screen to create a new message.
Enter the recipients Email address in the To field. Separate multiple recipient email addresses with a comma.
Tap Menuicon and select Add Cc/Bcc to add a carbon or blind copy.
Enter the subject of this message in the Subject field.
Tap the Compose email field and begin composing your message.
Tap Send icon to send.
Viewing a Gmail Message
From the Gmail Inbox, tap a message to view it.
Press Menuicon for additional options.