How To Use Flipboard On Samsung Galaxy Note 4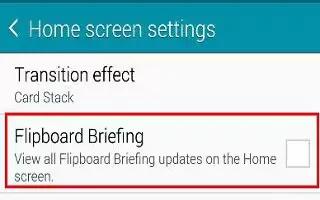 Learn how to use Fliboard on your Samsung Galaxy Note 4. Use this app to view live social network updates and news in a personalised magazine format. Tap Flipboard on the All apps screen. Note: This app may not be available depending on the region or service provider.
When you launch this app for the first time or restart it after performing a data reset, follow the on-screen instructions to finish the setup.
On the Flipboard main screen, select from various news articles and subscriptions.
Flipboard Briefing Use this feature to view the latest articles in various categories. You can get up to date on news that interests you using this feature.
On the Home screen, tap or or swipe to the right to open Flipboard Briefing.
Tap GET STARTED when launching this feature for the first time.
Swipe upwards to browse articles in each news category.
Note: To deactivate Flipboard Briefing, tap and hold an empty area on the Home screen. Then, tap Home screen settings and deselect Flipboard Briefing.