How To Use Facebook On iPad Mini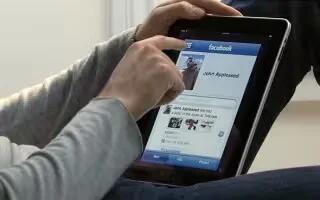 Learn how to use Facebook on your iPad Mini.
Sign in to your Facebook account (or create a new account) in Settings to enable posting directly from many of the apps on iPad.
Sign in to or create a Facebook account: Go to Settings > Facebook.
Post from Notification Center: Tap Tap to Post. To turn this feature on, go to Settings > Notifications > Share Widget.
Post using Siri: Say Post to Facebook .
Post an item from an app: In most apps, tap right curved arrow share or post icon. In Maps, tap blue color > icon, tap Share Location, then tap Facebook.
Set options for Facebook: Go to Settings > Facebook to:

Update Contacts on iPad with Facebook names and photos
Allow App Store, Calendar, Contacts, or iTunes to use your account

Install the Facebook app: Go to Settings > Facebook, then tap Install.
Note: This article will work on all iPads using iOS 6; including iPad Mini, iPad 2, The New iPad (iPad 3), iPad 4 (iPad with Retina display).