How To Use Display Settings - Samsung Galaxy Mega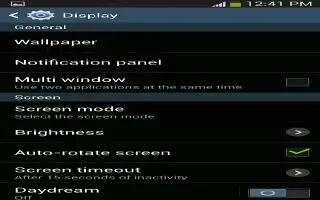 Learn how to use display settings on your Samsung Galaxy Mega. In this menu, you can change various settings for the display.
From the Home screen, tap App > Settings > My device > Display. The following options display:
Wallpaper: allows you to set the Wallpaper for your Home screen, Lock screen, or both. For more information, refer to Wallpaper."

Notification panel: allows you to set the brightness of your notification panel and also select the quick setting buttons that you want to display at the top of the notification panel. For more information, refer to Notification

Multi window: tap this option to enable/disable the automatic Multi window feature.

Screen mode: allows you to select from several different color modes.

Brightness: configures the LCD Brightness levels. Tap Automatic brightness to allow the phone to self-adjust or drag the slider and tap OK.

Auto rotate screen: allows you to switch the display orientation automatically when you rotate the phone.

Screen timeout: adjusts the delay time before the screen automatically turns off. Selections are: 15 seconds, 30 seconds, 1 minute, 3 minutes, 5 minutes, 10 minutes, 15 minutes, and 30 minutes.

Daydream: allows you to control what your screen does when your device is docked or sleeping. Tap the OFF / ON icon next to Daydream to turn it on icon. Follow the on-screen instructions.

Font style: allows you to set the font style that your phone will use. You can also tap Get fonts online to choose from a wider selection.

Font size: allows you to select which size of font is displayed.

Increase legibility: allows you to enhance the clarity of the text.

Touch key light duration: allows you to adjust the delay before the Touch key light automatically turns off.

Show battery percentage: allows you to see the battery charge percentage next to the battery charge icon at the top of the display.

Edit after screen capture: allows you to go edit a screen immediately after taking a screen capture.