How To Use Data Usage On Samsung Galaxy Tab 2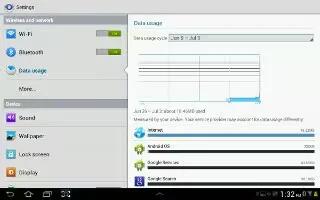 You can view the Wi-Fi or Ethernet data usage on Samsung Galaxy Tab 2.
From a Home screen, touch Apps > Settings > Data usage.
Touch the Data usage cycle drop-down menu and select a date.
The data usage displays as a visual (chart) and also displays a list of each application with a breakdown of data usage by application.
Note: Data is measured by your device. Your service provider may account for data usage differently.
Note
This article will work on both Samsung Galaxy Tabs; including Samsung Galaxy Tab 2 7.0 and Samsung Galaxy Tab 2 10.1.