How To Use Data Roaming On Sony Xperia Z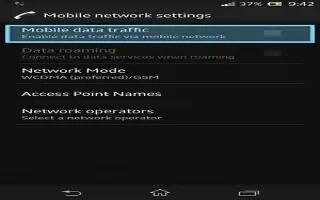 Learn how to use data roaming on your Sony Xperia Z. Some network operators allow mobile data connections via mobile networks when you are outside of your home network (roaming). Note that data transmission charges may apply. Contact your service provider for more information.
Applications may sometimes use the Internet connection in your home network without any notification, for example, when sending search and synchronization requests. Additional charges may apply when such Internet connections are established while you are roaming. Consult your network operator for more information.
To activate data roaming
From the Home screen, tap Apps icon.
Find and tap Settings > More > Mobile networks.
Mark the Data roaming checkbox.
Note: You cant activate data roaming when data connections have been deactivated.