How To Use Control Location Reporting And History On Nexus 7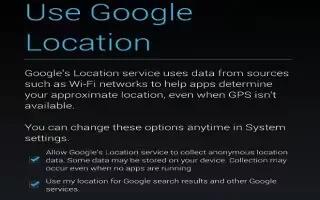 Location reporting refers to the ability of your tablet to report your current location. Location history refers to a related feature that stores your past locations, including your home and work locations. Turning off location reporting does not turn off ongoing recording of location history or delete any location history that Google has already stored. Unless you explicitly delete the history of your locations and turn off location history, Google Now and other Google services will continue to use this information.
How to turn off location reporting and location history on Nexus 7
To turn off both location reporting and location history from the Google Now screen:
Touch Menu, Settings, Privacy and accounts, and then Manage location settings.
This brings you to the Settings screen for Google Maps. You may have to sign in to Google Maps if you havent done so already.
Touch Location settings.
To turn off location reporting, touch Location reporting, and then Do not update your location.
To turn off location history, uncheck Enable location history.
Even if you turn off both location reporting and location history, your previously recorded history is still available to Google services such as Google Now along with location information provided by Googles location service and GPS, if theyre turned on.
How to turn off and delete location history details on Nexus 7
To delete location history details and also turn off location history, follow these steps from a web browser on a desktop computer:
Open a web browser and make sure youre signed in with the account whose location history you want to manage.
A page appears that allows you to view your location history for any date.
To delete all your recorded location history, click Delete all history.
Alternatively, from this screen you can delete a portion of your location history starting from a date you choose in the calendar.
Click Dashboard from the location history page.
Or visit this link from a desktop computer: https://www.google.com/latitude/b/0/history/dashboard.
Click the Gear icon at the upper right and choose History settings.
Select Disable.
Click Save.