How To Use Camera On HTC One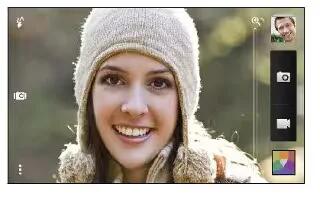 Learn how to use camera on your HTC One. Take great photos and videos with the camera, and make them more memorable by applying a variety of effects and scenes.
The camera is always ready to capture that perfect moment. While waiting to take your next photo, switch HTC One to Sleep mode. When you're ready to take more photos and videos, just press POWER again to use the camera.
Use the controls on the Viewfinder screen to add effects, zoom in or out, and more.
Zooming on HTC One
Before taking a photo or video, slide your finger on the zoom bar to zoom in or out.
When you're recording video, the zoom bar is always onscreen. You can freely zoom in or out while recording.
Switching between the front and main camera
On the Viewfinder screen, do any of the following:
Pull from the top or bottom edge in landscape view.
Pull from the left or right edge in portrait view.
Tap Menu icon and then tap the Front/Main switch.
Note: Some camera features are not available when youre using the front camera, such as zooming.
Choosing an effect in camera on HTC One
Use the available camera effects to make your photos look like theyve been taken through special lenses or filters. You can also apply certain effects to videos.
Tap Camera effects icon.
Scroll through the available effects and tap one that you like.
Setting the video resolution on HTC One
Under Settings, tap Video Quality, and then choose a video resolution.
Choosing a flash mode on HTC One
Tap the flash icon to choose a flash mode.
When using Flash on or Auto flash mode, the camera intelligently sets the best flash brightness for your photo.
How to take a photo on HTC One
Open the Camera app.
Just point the camera at what you want to capture. The camera adjusts the focus automatically as you move it.
When you're ready to take the photo, tap Camera icon.
Note: You can also tap anywhere on the screen to take a photo if you turned on Touch to capture in Menu icon > Shutter option.
How to record video on HTC One
Open the Camera app.
When you're ready to start recording, tap Video camera icon.
While recording, you can:

Freely zoom in or out.
Change focus to a different subject or area by just tapping it on the Viewfinder screen.
Tap the flash icon to turn the flash on or off.

To stop recording, tap Record icon.
Taking a photo while recording a video (VideoPic) on HTC One
Note: Make sure that you're in Normal scene to use this feature.
While you're recording video using the main camera, tap to capture a still shot of your subject.
Turning off auto focus on HTC One
You can only turn off auto focus before you start recording with the main camera.
Under Settings, tap Lock focus in video.
How to take continuous camera shots on HTC One
Do you want to take photos of moving subjects? Whether its your kid's football game or a car race, you can capture the action.
Note: Make sure that you're in Normal scene to use this feature.
On the Viewfinder screen, just press and hold Camera icon. The camera takes up to 20 consecutive shots of your subject.
After taking the shots, do any of the following:

To keep just one photo, select the photo that you like the most, and then tap Best shot.
To save the photos as a batch, press < icon.
Note: To get creative with your photos, open and edit them in the Gallery app. Additional editing features are available for a batch of continuous shots, such as Sequence Shot, Always Smile, and Object Removal.
Camera scenes on HTC One
A scene is a collection of settings to suit the lighting and environment. Use Normal and let the camera automatically determine optimal settings, or choose from a wide selection of scenes before you start taking photos.