How To Use Camera - LG G Flex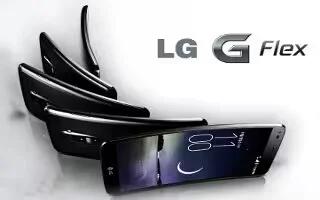 Learn how to use camera on your LG G Flex. The Multi Point Autofocus feature enables you to get a clearer and natural picture even if the objects are not in the center. To open the Camera application, tap Camera icon on the Home screen.
Getting to know the viewfinder Swap camera Allows you to swap between the rear camera lens and the front camera lens.
Flash Tap to turn the flash On icon, Off icon or set it to Auto icon.
Camera 10554 icon Number of new pictures available at the current size.
Mode Switch Touch and slide to switch between Camera mode and Video mode.
Capture Allows you to take a photo.
Gallery This enables you to access your saved photos and videos within the camera mode. Simply tap and your Gallery will appear on the screen.
Settings Tap to open the settings menu.
Mode Allows you select the shot mode from Normal, Shot & Clear, Dynamic tone(HDR), Panorama, VR panorama, Burst shot, Beauty shot, Dual camera, Time catch shot, Intelligent auto, Sports and Night.
Taking a photo
From the Home screen, tap Camera icon.
Holding the phone firmly, point the lens towards the subject you want to photograph.
Note: To zoom in use the pinch-to-zoom method.
A focus box will appear in the center of the viewfinder screen. You can also tap anywhere on the screen to focus on that spot.
When the focus box turns green, the camera has focused on your subject.
Tap Capture icon to take a picture.
Once youve taken the photo
Your captured photo will appear on the screen if Auto review is set to On Otherwise, tap the image preview at the bottom right corner of the screen to view the picture.