How To Use Camera - Samsung Galaxy Tab 3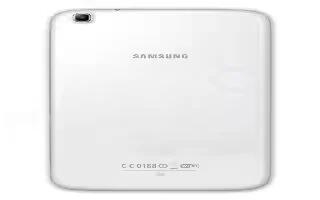 Learn how to use Camera on your Samsung Galaxy Tab 3. Use your devices built-in camera and camcorder to take photos and record videos.
To access the Camera:
From a Home screen, touch Apps > Camera icon. If a memory card is inserted, the Storage location pop-up displays.
Touch OK to change the storage location to memory card.
or
Touch Cancel to use the device storage for storing pictures and videos.The Camera screen displays.
Note: If memory card storage is used, photos are stored in the /storage/emulated/0/DCIM/Camera folder as jpg files.
Camera Screen
The following items can be found on the Camera screen as illustrated: Settings Shortcuts
GPS Active
Storage Indicator
Mode
Camera Button
Image Viewer
Settings
Taking Photos
To take a photo:
Touch Camera icon.
Using the display as a viewfinder, compose your photo by aiming the lens at the subject.
To take the photo, touch the Camera button.
Touch Back key to leave the Camera and display the previous screen.
Note:
Do not take photos of people without their permission.
Do not take photos in places where cameras are not allowed.
Do not take photos in places where you may interfere with another persons privacy.
Note
This guide will work on all Samsung Galaxy Tabs; including Samsung Galaxy Tab 3 7.0, Samsung Galaxy Tab 3 8.0 and Samsung Galaxy Tab 3 10.1.