How To Use Browser - HTC One Mini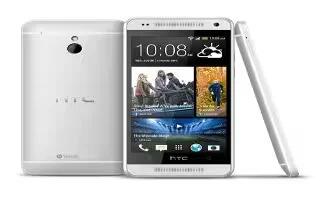 Learn how to browse on your HTC One Mini.
Open the Internet app.

Tap the URL box on top of the screen.
Note: If the webpage is in fullscreen mode, flick the screen down to show the URL box and other options.
Enter the webpage address or your search keywords.

On the webpage, you can:
Tap a link to open it, or press and hold a link to see more options.

Tap an email address to send a message to the email address, save it to People, and more.

Press and hold an image to save, copy, or set it as your wallpaper.

To return to the previous webpage you've viewed, tap Menu, and then tap < or >.
Maximizing your browsing space
To hide the status bar when browsing, tap Menu > Settings > General, and then select Fullscreen.

While browsing a webpage, tap Menu > Desktop View to display the full desktop version of the webpage.
Using browser tabs
Open multiple browser tabs and quickly switch from one webpage to another.
Open the Internet app.
To add a browser tab, tap 1 > ADD. Repeat the same to open new browser tabs.

To switch among browser tabs, tap 3 and swipe to the webpage you want to view. Tap the browser tab to display the webpage in full screen.

To close a browser tab, tap 3, and then tap Close
Saving web content for later
Save webpages to read later, even without an Internet connection. You can also add some video clips on webpages to the Watch list so you can quickly find and watch them whenever you like.
Note: HTC One mini saves webpage text and images only. You will need Internet connection to open linked pages and play video clips.
While viewing a webpage, tap Menu > +.

Tap Reading list or Watch list.
Note: When the webpage you're adding to the Watch list has one or more video clips, you'll be asked to choose which videos you want to add.
To view a saved webpage or video clip, tap Menu > Saved. Swipe to the Reading list or Watch list, and then tap a webpage or video you want to view.
Setting browser options
Customize the web browser to suit your browsing style. Set display, privacy, and security options when using the web browser. From the browser screen, tap Menu > Settings.