How To Use Apps – iPad Air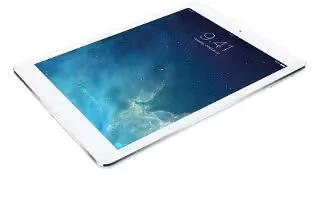 Learn how to use apps on your iPad Air. All the apps that come with iPad as well as the apps you download from the App Storeare on the Home screen.
Start from home
Tap an app to open it.
Press the Home button anytime to return to the Home screen. Swipe left or right to see other screens.
Multitasking
iPad lets you run many apps at the same time.
View running apps
Double-click the Home button to reveal the multitasking screen. Swipe left or right to see more. To switch to another app, tap it.
Close an app
If an app isnt working properly, you can force it to quit. Drag the app up from the multitasking screen. Then try opening the app again.
If you have lots of apps, you can use Spotlight to find and open them. Pull down the center of the Home screen to see the search field.
Look around
Drag a list up or down to see more. Swipe to scroll quickly; touch the screen to stop it. Some lists have an index tap a letter to jump ahead.
Drag a photo, map, or webpage in any direction to see more.
To quickly jump to the top of a page, tap the status bar at the top of the screen.
Zoom in or out
Stretch a photo, webpage, or map for a close-up then pinch to zoom back out. In Photos, keep pinching to see the collection or album the photos in.
Or double-tap a photo or webpage to zoom in, and double-tap again to zoom out. In Maps, double-tap to zoom in and tap once with two fingers to zoom out.
Multitasking gestures
You can use multitasking gestures on iPad to return to the Home screen, reveal the multitasking display, or switch to another app.
Return to the Home screen
Pinch four or five fingers together.
Reveal the multitasking display
Swipe up with four or five fingers.
Switch apps
Swipe left or right with four or five fingers.
Turn multitasking gestures on or off.
Go to Settings > General > Multitasking Gestures.
Change the screen orientation
Many apps give you a different view when you rotate iPad.
Lock the screen orientation
Swipe up from the bottom edge of the screen to open Control Center, then tap Lock Rotation icon.
The orientation lock icon Lock Rotation appears in the status bar when the screen orientation is locked.
You can also set the Side Switch to lock the screen orientation instead of silencing sound effects and notifications. Go to Settings > General, and under Use Side Switch to, tap Lock Rotation.