How To Use App Extensions On iPhone 6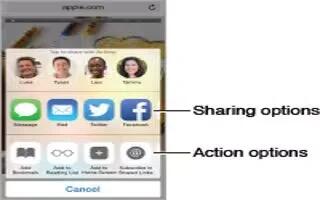 Learn how to use app extensions on iPhone 6. Some apps let you extend the functionality of your apps on iPhone. An app extension may appear as a sharing option, action option, a widget in Notification Center, a file provider, or a custom keyboard. For example, if you download Pinterest to iPhone, Pinterest becomes another option for sharing. App extensions can also help you edit a photo or video in your Photos app. For example, you can download a photo-related app that lets you apply filters to photos from your Photos app.
Install app extensions. Download the app from the App Store, then open the app and follow the onscreen instructions.
Turn sharing or action options on or off. Tap Share, then tap More (drag options to the left if necessary). Turn off third-party sharing or action options (they are on by default).
Organize sharing and action options. Tap Share, then tap More (drag icons to the left if necessary). Touch and drag List to rearrange your options.
For more information about Notification Center widgets, see Notification Center
Note: Refer here for more information on iPhone 6.