How To Use Alarm App – Samsung Galaxy Tab 3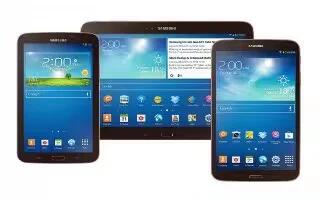 Learn how to use Alarm app on your Samsung Galaxy Tab 3. You can use add, configure, edit, delete, activate, turn off, and snooze features in this app. Set alarms for reminders or for wake-up times.
Adding and Configuring Alarms
Touch Alarm icon.
To display the Create alarm screen, touch + Create icon.
or
Touch an existing alarm to display the Edit alarm screen.
Touch fields on the screen to configure the alarm.
Some fields have preset values. Touch the field and touch the desired value.
Other fields have to be input. Touch the field and use the on-screen keyboard to input information.
Touching the check box next to some fields may make additional fields available.
Touch Save to save the alarm. The main Alarm screen displays showing the new or updated alarm.
Activating Alarms
Touch Alarm icon.
To activate or deactivate the alarm, touch Turn alarm on icon. A gray alarm means the alarm is deactivated.
Touch an alarm to change any of its settings and then touch Save to save the updates.
Editing and Deleting Alarms
Touch and hold an alarm and then touch one of the following options:
Edit: Edit the alarm.
Delete: Delete the alarm.
or
Touch Delete bin icon, touch the existing alarms you want to delete or touch Select all, and then touch Delete.
Turning Off an Alarm
When the alarm sounds, to turn off the alarm:
Touch and drag x icon to the right.
Setting the Snooze Feature
To activate the Snooze feature after an alarm sounds:
Touch and slide zz snooze icon to the left. Snooze must first be set in the alarm settings.
Note
This guide will work on all Samsung Galaxy Tabs; including Samsung Galaxy Tab 3 7.0, Samsung Galaxy Tab 3 8.0 and Samsung Galaxy Tab 3 10.1.