How To Sync Accounts - Samsung Galaxy Tab 4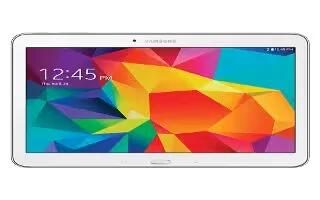 Learn how to Sync Accounts on your Samsung Galaxy Tab 4. Select the items you want to synchronize on your account such as Books, Calendar, Contacts, and more.
From the Settings screen, touch General > Accounts.
Touch the account type, which is located in the My accounts section.
Touch the account name.

Touch the items you want to synchronize with your account to create a check mark then touch Sync now.This includes items such as app data, calendar, contacts, gmail or email, photos, and so on.
Touch Cancel sync to stop the synchronization.
Note: The items that are available to Sync depends on the typeof account.
Touch Settings or Account Settings to access the account settings.
Touch Storage usage, if available, to see your storage usage for different applications.
Touch Sync all to synchronize all accounts of this type.
Note
This guide will work on all Samsung Galaxy Tabs; including Samsung Galaxy Tab 4 7.0, Samsung Galaxy Tab 4 8.0 and Samsung Galaxy Tab 4 10.1.