How To Setup LDAP And CardDAV Accounts On iPhone 5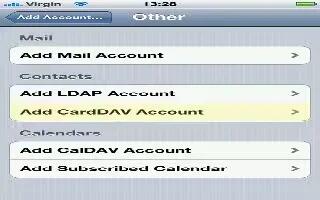 When you set up an LDAP account, you can view and search for contacts on your organizations LDAP server. The server appears as a new group in Contacts. Because LDAP contacts arent downloaded to iPhone, you must have an Internet connection to view them.
Check with your administrator for account settings and other requirements (such as VPN).
When you set up a CardDAV account, your account contacts are synced with iPhone over the air. You may also be able to search for contacts on your organizations CardDAV server.
Set up an LDAP or CardDAV account: Go to Settings > Mail, Contacts, Calendars, then tap Add Account. Tap Other.
Ask your service provider or administrator what settings you should use.
Note
This article will work on all iPhones using iOS 6; including iPhone 3GS, iPhone 4, iPhone 4S, and iPhone 5.