How To Send Contacts Via Bluetooth On Samsung Galaxy Note 2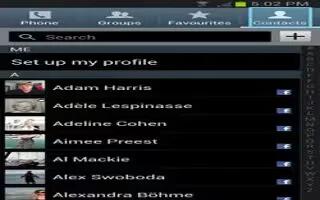 On Samsung Galaxy Note 2 depending on your paired devices settings and capabilities, you may be able to send pictures, Contact information, or other items using a Bluetooth connection.
Note: Prior to using this feature, Bluetooth must first be enabled on both your phone and the external device, and the recipients device must be visible.
Verify your Bluetooth is active and your phone is visible.
From the Home screen, tap Contacts icon.
Touch and hold the entry from the list to display the on-screen context menu.
Tap Share namecard via > Bluetooth and select a paired external Bluetooth device.
Note: The external Bluetooth device must be visible and communicating for the pairing to be successful.
A Bluetooth share notification displays in your notifications list.