How To Search Using Spotlight On iPhone 6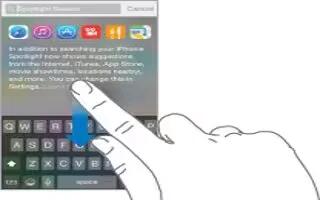 Learn how to search using Spotlight on your iPhone 6.
Search apps
Many apps include a search field where you can type to find something within the app. For example, in the Maps app, you can search for a specific location.
Spotlight Search
Spotlight Search not only searches your iPhone, but also shows suggestions from the App Store and the Internet. You may see suggestions for movie showtimes, nearby locations, and more. Search iPhone
Drag down the middle of any Home screen to reveal the search field. Results occur as you type; to hide the keyboard and see more results on the screen, tap Search. Tap an item in the list to open it.
You can also use Spotlight Search to find and open apps.
Choose which apps and content are searched. Go to Settings > General > Spotlight Search, then tap to deselect apps or content. To change the search order, touch and drag to a new position.
Limit Spotlight Search to your iPhone. Go to Settings > General > Spotlight Search, then tap Spotlight Suggestions to deselect it.
Turn off Location Services for Spotlight Suggestions. Go to Settings > Privacy > Location Services. Tap System Services, then turn off Spotlight Suggestions.
Note: Refer here for more information on iPhone 6.