How To Remove Unwanted Objects In Photos On HTC One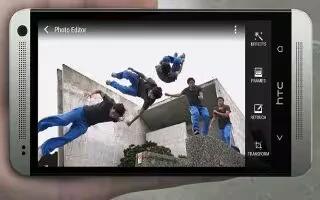 Learn how to remove unwanted objects in photos on your HTC One. Is there a pedestrian or a passing car that ruins your otherwise perfect shot of a famous landmark? Retouch the photo to remove unwanted people or objects.
Note: You can use this feature when editing HTC Zoe photos. This feature is only available for continuous shots that are saved as a batch.
Tap the album that has the photos or videos you want to share.
Browse to the photo that you want to edit.
Tap the photo, and then tap Edit > Retouch > Object Removal. You'll see frames around areas in the photo where objects have been automatically removed.
To retain an object, tap X close icon on its image on the film strip.
After making your changes, tap Done.
Tap Menu icon > Save. The edited photo is saved as a copy. The original photo remains unedited.