How To Navigate - Samsung Galaxy Tab 3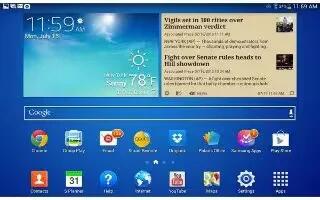 Learn how to navigate on your Samsung Galaxy Tab 3. Use command buttons and the touch screen to navigate. You can use command buttons for navigating.
Navigate Samsung Galaxy Tab 3
Command Buttons
Back
Touch Back key to return to the previous screen, option, or step.
Home
Touch Home button to display the center Home screen.
Touch and hold to open a list of thumbnail images of apps you have worked with recently. Touch an App to open it.
Touch Task Manager icon to display the Task Manager.
To launch Google Search, touch Google Search icon.
Touch Clear Thumbnails icon to clear all thumbnail images.
Context-Sensitive Menus
Context-sensitive menus offer options for features or screens. To access context-sensitive menus:
Touch Menu key to display a list of options.
Touch an option in the list.
Note
This guide will work on all Samsung Galaxy Tabs; including Samsung Galaxy Tab 3 7.0, Samsung Galaxy Tab 3 8.0 and Samsung Galaxy Tab 3 10.1.