How To Make Calls - Samsung Galaxy Tab Pro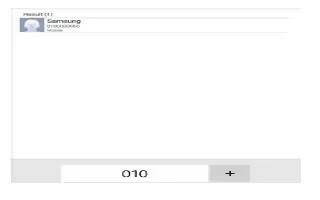 Learn how to Make Calls on your Samsung Galaxy Tab Pro. Use this application to make or answer a call.
Tap Phone on the Applications screen.
Making a call
Use one of the following methods:
Phone: Enter the number using the keypad, and then tap .
Groups: Make a call from the list of contact groups.
Favourites: Make a call from the list of favourite contacts.
Contacts: Make a call from the contacts list.
Speed dial numbers
For speed dial numbers, tap and hold the corresponding digit.
Number prediction
When entering numbers on the keypad, automatic predictions appear. Select one of these to make a call.
Finding contacts
Enter a name, phone number, or email address to find a contact in the contacts list. As characters are entered, predicted contacts appear. Select one to place a call to it.
Making an international call
Tap and hold 0 until the + sign appears. Enter the country code, area code, and phone number, and then tap Call icon.
During a call
The following actions are available:
Volume icon: Adjust the volume.
Add call: Dial a second call.
Keypad: Open the keypad.
End call: End the current call.
Speaker: Activate the speakerphone. Keep the device away from your ears when using the speakerphone.
Mute: Turn off the microphone so that the other party cannot hear you.
Headset: Switch to a Bluetooth headset if it is connected to the device.
Swap: Switch between two calls. This feature is available only if the multiparty call service is active.
Merge: Make a multiparty call when connected to two calls. Repeat this to add more parties. This feature is available only if the multiparty call service is active.
Menu icon > Enable extra volume: Increase the volume.
Menu icon > Hold: Hold a call. Tap Unhold to retrieve the held call.
Menu icon > Contacts: Open the contacts list.
Menu icon> Memo: Create a memo.
Menu icon > Message: Send a message.
Menu icon > Manage conference call: Have a private conversation with one party during a multiparty call or disconnect one party form the multiparty call.
Adding contacts
To add a phone number to the contacts list from the keypad, enter the number and tap Menu icon > Add to contacts.
Sending a message
Tap Menu icon > Send message to send a message to the number on display.
Note
This guide will work on all Samsung Galaxy Tab Pros; including Samsung Galaxy Tab Pro 8.4, Samsung Galaxy Tab Pro 10.1 and Samsung Galaxy Tab Pro 12.2
This article will work on Samsung Galaxy Tab Pro's only using SIM cards(4G/LTE Models).