How To Factory Data Reset On Samsung Galaxy Note 2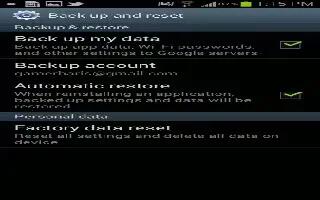 The Factory Data Reset allows your Samsung Galaxy Note 2 to reset your phone and sound settings to default settings.
From this menu you can reset your phone and sound settings to the factory default settings.
Press Home button > Menu key and then tap Settings > Back up and reset.
Tap Factory data reset. This action erases all data from your device except current system software and bundled applications, or SD card files such as music or photos.
Note: This feature provides an option to format the internal USB storage, not the microSD card.
Tap Reset device > Delete all.