How To Customize Widgets And Apps In Home Screen On HTC One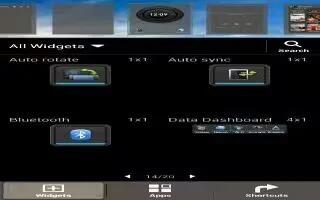 Learn how to customize the widgets and apps in the Home screen on your HTC One. Place apps you often use on your Home screen. You can also add shortcuts to frequently used settings, bookmarked webpages, and more.
Slide the Notifications panel open, and then tap Settings icon > Personalize.
Tap Customize home screen.
Tap view down faced triangle icon > Apps or Shortcuts. You can:

Swipe to browse through the apps or shortcuts.
Tap Search lens icon to search for specific apps or shortcuts.

Press and hold and then drag an app or a shortcut to a home screen thumbnail where you want to add it.
Note: To add an app from the All apps view, press and hold an app and drag it to right curved arrow icon. Drop the app on an empty space in the Home screen.
How to rearrange or remove widgets and icons on Home screen on HTC One
Move a widget or icon
You can easily move a widget or icon from one Home screen panel to another.
Press and hold the widget or icon with one finger.
With another finger, flick left or right to rotate the screen to another Home screen panel.
Release the widget or icon.
To move the widget or icon to another position on the panel, just press and hold and then drag it.
Remove a widget or icon
Press and hold the widget or icon you want to remove, and then drag it to X close icon.
When the widget or icon turns red, lift your finger.