How To Customize Smart Screen - Samsung Galaxy Tab 3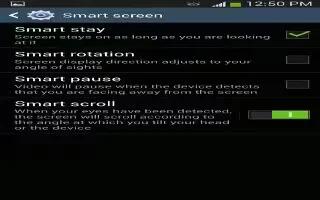 Learn how to customize smart screen settings on your Samsung Galaxy Tab 3. To set Smart stay and Smart rotation:
Touch Settings > Display > Smart screen.
To set the screen to stay on as long as you look at it, touch Smart stay.
or
To set the screen to rotate according to the orientation of your face, touch Smart rotation.
A check mark appears in the check box and the Smart stay or Smart rotation pop-up displays more information.
Touch OK to close either pop-up.
Note: When one or both Smart Screen options are enabled, displays in the Status Bar.
Note
This guide will work on all Samsung Galaxy Tabs; including Samsung Galaxy Tab 3 7.0, Samsung Galaxy Tab 3 8.0 and Samsung Galaxy Tab 3 10.1.