How To Customize Accounts Settings - Samsung Galaxy Tab 3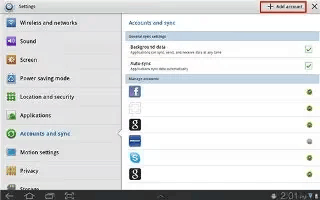 Learn how to customize accounts settings on your Samsung Galaxy Tab 3. Set up and manage accounts, including your Google accounts, Samsung accounts, and email accounts. Your device provides the ability to synchronize information from a variety of accounts, including Email, Facebook, Google, and your Samsung account.
Depending on the account, you can choose to synchronize your calendar, contacts, and other types of content. With synchronization, you can ensure that the information on your device is updated with any information that changes in your accounts.
Managing Accounts
To view the accounts you have added:
Touch Settings > (account).
The (account) is either Google, Samsung account, or some other account you have added, such as Email.
Each of your accounts (Google, Samsung, and so on) are listed under Accounts.
Touch Sync all to synchronize all accounts listed. Touch Cancel sync to stop the synchronization
Settings
Touch an account to view the sync settings for that account.
Touch Sync now to synchronize all data for the selected account.
or
Touch the account data to synchronize, such as, Calendar, Contacts, and so on.
To remove the account, touch Remove account and then touch Remove account at the prompt to remove the account and delete all its messages, contacts, and other data.
For Google accounts, touch one of the items listed under Privacy to view various settings for that item.
or
For Samsung accounts, touch Account settings to manage Samsung account settings.
- or
For Email accounts, touch Settings to manage various settings for that account.
Adding an Account
To add a new account:
Touch Settings > Add account.
Touch one of the account types.
Use the keyboard and follow the prompts to enter your credentials and set up the account.
Note: For more information about the types of accounts that you can add,Accounts.
Note
This guide will work on all Samsung Galaxy Tabs; including Samsung Galaxy Tab 3 7.0, Samsung Galaxy Tab 3 8.0 and Samsung Galaxy Tab 3 10.1.