How To Create New Google Account – Samsung Galaxy Tab 3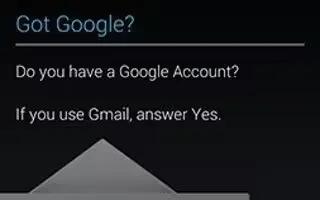 Learn how to create new Google account on your Samsung Galaxy Tab 3. In order to utilize your device to the fullest extent, you will need to create a Google Account when you first use your device. With a Google Account, Google applications will always be in sync between your tablet and computer.
If you need to create a Google account, follow these steps:
From a Home screen, touch Apps > Gmail icon. The Add a Google Account screen displays.
Touch New to create a new Google account.
Retrieving Your Google Account Password
A Google account password is required for Google applications. If you misplace or forget your Google Account password, follow these instructions to retrieve it:
From your computer, use an Internet browser to navigate.
Once the URL loads, click on the Cant access your account? link and follow the on-screen instructions.
Note
This guide will work on all Samsung Galaxy Tabs; including Samsung Galaxy Tab 3 7.0, Samsung Galaxy Tab 3 8.0 and Samsung Galaxy Tab 3 10.1.