How To Connect To Different Galaxy Gear - Samsung Galaxy Gear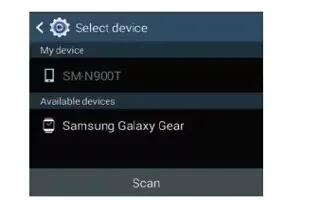 Learn how to connect to different galaxy gear on your Samsung Galaxy Gear. Although a single smartphone can be paired to multiple Galaxy Gear devices, only one device can be controlled via the application on the smartphone at any single time.
If you go from using one Galaxy Gear then begin the paring process with a secondary unit, the Gear Manager application will have to sync up the configuration and settings between the smartphone and the newly pairing Galaxy Gear. This synchronization process requires that the new Galaxy Gear Restore its parameters and settings with your Gear Manager.
Note: If the Gear Manager recognizes a previously paired Galaxy Gear, it will attempt to synchronize the two devices. DO NOT interrupt this restoration process.
From within your smartphones Applications page, tap Gear Manager > Paired Gear field.
Select Connect new Gear.
Follow the manual pairing process describe
Note: If the new Galaxy Gear is recognized as a previously paired device, the Gear Manager software will attempt to restore its settings to match.