How To Configure Trip Advisor On Samsung Galaxy S4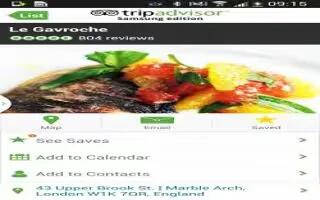 Learn how to configure Trip Advisor on your Samsung Galaxy S4. With the TripAdvisor, you can plan and have your perfect trip. With over 75 million reviews and opinions by travelers, it is easy to find the best hotels, restaurants, and fun things to do.
From the Home screen, tap Apps > TripAdvisor icon.
Sign in with your Samsung Account if you have not already done so.
Follow the on-screen instructions to use TripAdvisor.
Press Menu key for additional options.