How To Configure Story Album On Samsung Galaxy S4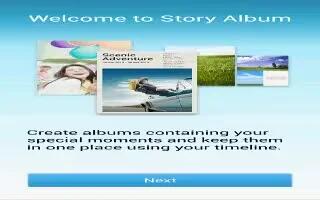 Learn how to configure Story Album on your Samsung Galaxy S4. With Story Album, you can create a digital Album of your story in media. Special moments will be on a timeline, and if you wish, you can have your album published as a hard copy.
From the Home screen, tap Apps > Story Album icon.
Read the introductory information and tap Next.
Tap Start to begin your Story Album.
Follow the on-screen instructions.
Press Menu key > Help for additional information.