How To View About Device - Samsung Galaxy Note Pro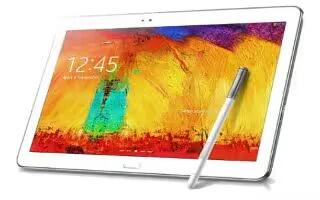 Learn how to view about device on your Samsung Galaxy Note Pro. View information about your device, including status, legal information, hardware and software versions, and battery use.
From a Home screen, touch Apps icon > Settings icon > About device. Touch items to view details:

Software update: Connect to the network and download new software updates for your device, if available.
Icon glossary: Displays a categorized list of icons that display on the device.
Status: View Battery status, Battery level, IP address, Wi-Fi MAC address, Bluetooth address, Up time, and Device status.
Legal information: Touch an option to display Open source licenses, Google and Samsung legal information, and Privacy Alert.
Device name: Enter the name for your device. The default is the model number: SM-P905V.
Model number: Display your devices model number.
Android version: Display the firmware version of your device.
Baseband version: Baseband version loaded on this device.
Kernel version: Display the kernel version of your device.
Build number: Display your devices build number.
SE for Android status: Display Security Enhancements for Android status information.
Hardware version: Hardware version of your tablet.
Security software version: Security software version used on your tablet.