How To Backup and Reset - Samsung Galaxy Tab Pro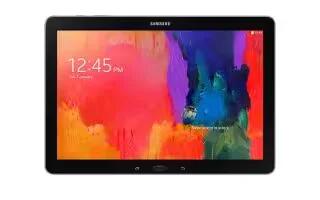 Learn how to backup and reset on your Samsung Galaxy Tab Pro. Back up your data to the Google server and reset your device to its factory defaults.
Backup and Restore
To enable or disable backup of your information to the Google server.
From the Settings screen, touch General tab > Backup and reset.
Touch Back up my data to enable or disable back up of application data, Wi-Fi passwords, and other settings to the Google server.
Once the Back up my data option is enabled, then the Backup account and the Automatic restore options are available.
Touch Backup account and touch your Google Gmail account or touch Add account to set your Google Gmail account to be backed up to the Google server.
Touch Automatic restore to enable automatic restoration of settings from the Google server. When enabled, backed-up settings are restored when you reinstall an application.
Note

This guide will work on all Samsung Galaxy Tab Pros; including Samsung Galaxy Tab Pro 8.4, Samsung Galaxy Tab Pro 10.1 and Samsung Galaxy Tab Pro 12.2.