How To Access Settings On Samsung Galaxy S4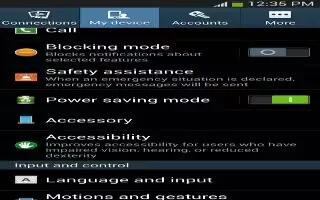 Learn how to access the settings on your Samsung Galaxy S4. This section explains the settings used for customizing your device.
How to access Settings
From any Home screen, tap Apps > Settings icon.
or
From any Home screen, press Menu key > Settings.
Settings Tabs
The Settings are divided into 4 main groups. When the Settings screen displays, the following 4 tabs are located at the top of the screen:
Connections:
This tab allows you to see all of settings related to the connection of your device to external sources. Features include: Wi-Fi, Bluetooth, Data usage, More networks (Airplane mode, Mobile networks, Tethering and portable hotspot, and VPN), NFC, S Beam, Nearby devices, Screen Mirroring, and Kies via Wi-Fi.
My device:
This tab provides access to device configuration and customization features. Features include: Lock screen, Display, LED indicator, Sound, Home screen mode, Call, Blocking mode, Power saving mode, Accessory, Accessibility, Language and input, Motions and gestures, Smart screen, Air view, and Voice control.
Accounts:
This tab provides both the ability to create and modify your accounts (example; Samsung account, Email, Google account, etc.) and access Backup and reset features.
More:
This tab provides access to the remaining set of device settings not listed under the other three tabs. These include Location services, Security, Application manager, Battery, Storage, Date and time, and About device.
Note: The settings for your device are described below in the order that they appear within the Settings menu. Options under the Connections tab are listed first, followed by My device, Accounts, and More settings.