Chinons AVI Stylix iPod/iPhone docking station with 7-inch LCD, plays Audio, Video, streams Netflix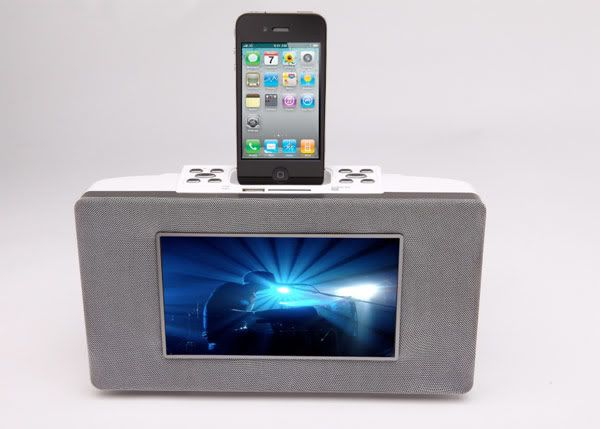 Chinon USA has released its docking station with 7-inch LCD screen and it has merged the fashion, entertainment and its latest Audio-Video technology in its new AVI Stylix docking station for Apples iPod and iPhone. It is available in multi-colours to match your unique sense of style, seems to be ultimate accessory of Apple. It delivers high resolution playback of videos stored in iPhone or iPod connected by Wi-Fi and streams video from internet such as Youtube or Netflix.
The usual suspects seems in the device are Dock Connector Port, twin-two watt speakers, USB port, SD card slot and a bundled remote. The device only costs $ 99.99, it might not be bad bet for your home. The Chinons AVI Stylix will be available in the market from June 2011.
For more details read the Press Release
Chinon Stylix iPod/iPhone Docking Station Plays iTunes Audio and Video Files
LAKE ZURICH, IL, March 21, 2011 -- Chinon USA has merged fashion, entertainment and the latest audio-video technology in its new AVi Sytlix docking station for Apple iPhone and iPod.
Available in an array of colors to match your unique sense of style, the AVi Stylix is the ultimate Apple accessory. It features a 7-inch high-resolution LCD that delivers brilliant, high-resolution playback of videos stored on an iPod or iPhone. In addition, when docked to an iPhone or iPod Touch connected by Wi-Fi, the Avi Stylix will stream web videos from popular sites such as YouTube or Netflix. Because the screen is nearly three times the size of the iPhone's LCD, it greatly enhances the user experience and makes it easier to share the fun with friends.
The AVi Stylix sound system provides a rich, multi-dimensional audio, whether it is playing music from an iTunes library or a dynamic movie soundtrack. Dual 2W stereo speakers output a generous range that will fill any size room. Best of all, this incredible sound comes within a small, portable package that is perfect for bedrooms, offices, dorm rooms, and any other limited space areas.
In addition to playing audio and video from an iPod or iPhone, the AVi Stylix has inputs for USB and SD cards to view movies, photos and videos, or to listen to music that is stored on either a card or thumb drive. SD cards can be directly removed from a digital camera and inserted into the AVi Stylix turning the unit into a high-end digital photo frame.
Operation could not be simpler. Just place an iPod or iPhone into the universal dock adapter, select an operation mode, and you're ready to rock - no additional cords or accessories required. An intuitive remote control provides control of an iPod or iPhone from across the room. Other features on the Stylix are a digital radio and an alarm clock.
The Chinon AVi Stylix will be available in June 2011 with an MSRP of $99.99. Chinon products are sold by several online retailers including overstock.com and bundlecity.com.
For more information, visit www.chinonusa.com